Guide to sand polishing filters for site assessors, builders and installers.
Sandcel sand polishing filters: a guide for site assessors, builders, installers and architects.
Tricel Sandcel sand polishing filters are tertiary treatment plants, designed to meet the Environmental Protection Agency (EPA) Code of Practice. Constructed from a composite material known as Sheet Moulding Compound, SMC, which is a form of glass reinforced plastic, the Tricel Sandcel panels are both strong, durable, as well as chemical and impact resistant. GRP material will not rot not decay over time.
Where should a sand polishing filter be used?
You can use a sand polishing filter after a wastewater treatment plant (which is a secondary treatment unit, such as Tricel Novo) to further purify effluent depending on ground requirements. The Sandcel is described as a tertiary system, which can be applied following the tertiary system.
Alternatively, you can also place a Sandcel after a septic tank, in such a case the sand polishing filter gets described as a secondary system.
How does a Sandcel sand polishing filter work?
The Sandcel consists of a series of pipework designed to distribute the effluent for treatment over stratified layers of certified sands according to the EPA Code of Practice. These filters can get installed above or below ground applications with all pipework accessible from a service pod.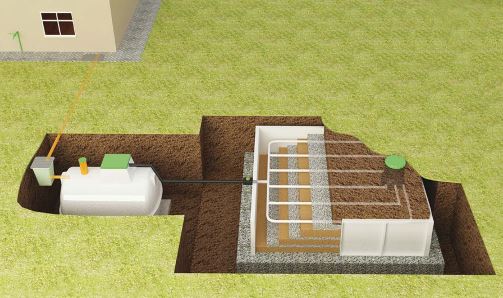 What are the benefits of using a sand polishing filter, and why should you use it or recommend it?
The Sandcel sand polishing filter is ideal an ideal solution for homeowners, site assessors and engineers as it suits multiple needs.
Homeowners
Designed for use on smaller sites (only 16 m

2

for a six-person application, reducing the need for large percolation areas).

Aesthetic pleasing, the Sandcel sand polishing filter can be buried, covered with soil and planted with lawn to blend into your garden design.

Environment-friendly with a high level of treatment, perfect for sensitive sites.

Low maintenance requirements, maintenance contract available.
Site Assessors and Engineers
Reduces the size of the percolation area, ideal for tight sites.

Reduces the depth of soil in your rock bed (free draining soil), 900mm is usually required.

Consists of long life components (GRP panels, certified sand and gravel).

High performance (sand polishing filter designed to ensure equal distribution of effluent over the entire bed providing excellent treatment of the effluent).

Suitable for sensitive areas (near a watercourse or in conservation area) thanks to a high quality of effluent treatment which helps to protect the environment. The Sandcel will reduce nutrients discharged from the system.
How to build a sand filter?
The Tricel Sandcel sand polishing filter is constructed of the following;
GRP panels

Certified sands

10mm pea gravel

Servicing pods

Pipes

Geotextile cover (as a top layer to block the soil from blocking the pipework)
Sand polishing filters are fitted following a packaged wastewater treatment system or septic tank.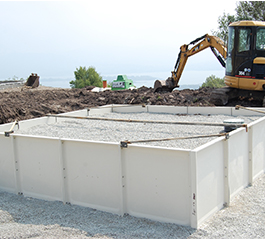 Layers of pea gravel and sands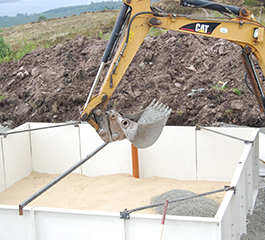 Network of pipes and servicing pod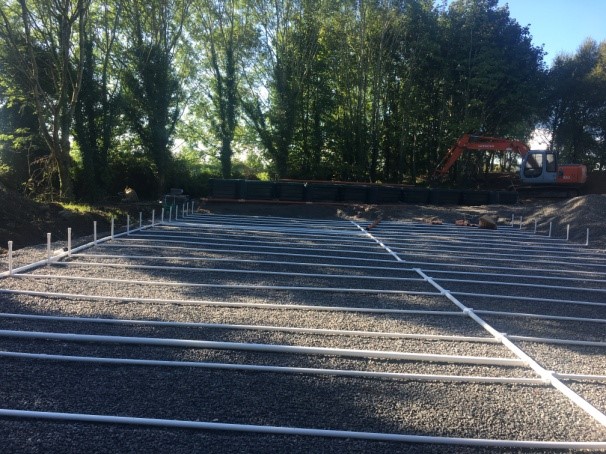 How deep does a Sandcel sand polishing filter go?
The Sandcel sand polishing filter can be installed above or below the ground. It all depends on how much soil is on site.
We recommend leaving 100mm from the top of the panels to the ground level, to make sure you have enough soil over the pipework, to ensure the panels are well covered and promote grass growth.
Can a sand polishing filter be buried?
Yes, a Sandcel sand polishing filter can get buried. It has to be placed 400mm above the bedrock or water table, whichever is the highest. Doing so avoids contamination of groundwater.
How big is the base?
The base size depends on EPA Code of Practice tertiary distribution area formula.
0.125 x PE x T = Area in m2
Standard sizes and dimensions of Sandcel Sand Polishing Filters
Larger sizes are available upon request.
Sandcel 900
Sandcel 1200
Sandcel 1500
Sandcel 1800
Capacity (litres per day)
900
1200
1500
1800
Length (mm)
4000
4000
6350
7500
Width (mm)
3850
5000
4000
4000
Depth (mm)
1000
1000
1000
1000
Footprint (m2)
15.4 m2

(165.77 sq/ft)
20.0 m2

(215.28 sq/ft)
25.4 m2

(269.10 sq/ft)
30 m2

(322.91 sqft)
Gravel calculator for Sandcel. How to calculate how much gravel is required for a Sandcel installation.
Sandcel stratified layers to be used as a reference for the calculator.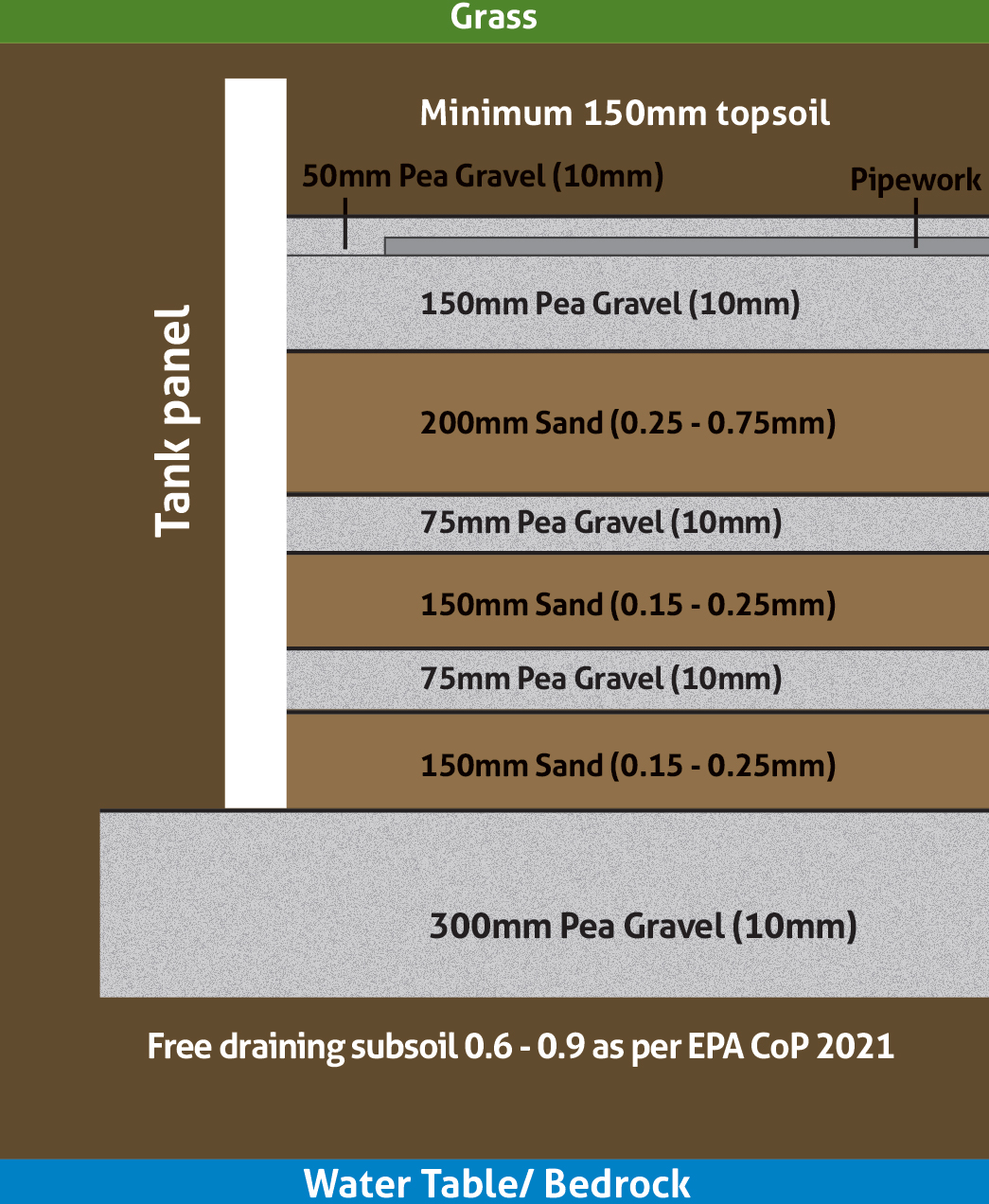 Note: these calculations are only for Tertiary systems. They are not suitable for cases when the Sandcel is used as a secondary treatment system.
Step 1: Area calculator
The Sandcel must be placed on a gravel distribution bed to disperse the treated effluent. This distribution bed should comprise of a 300mm layer of 10mm pea gravel.
To calculate the area, you need to have available the population equivalent (PE) value as well as the surface/subsurface value
For subsoil with a Subsurface/surface the distribution area is calculated using the below table from EPA Code of Practice 2021.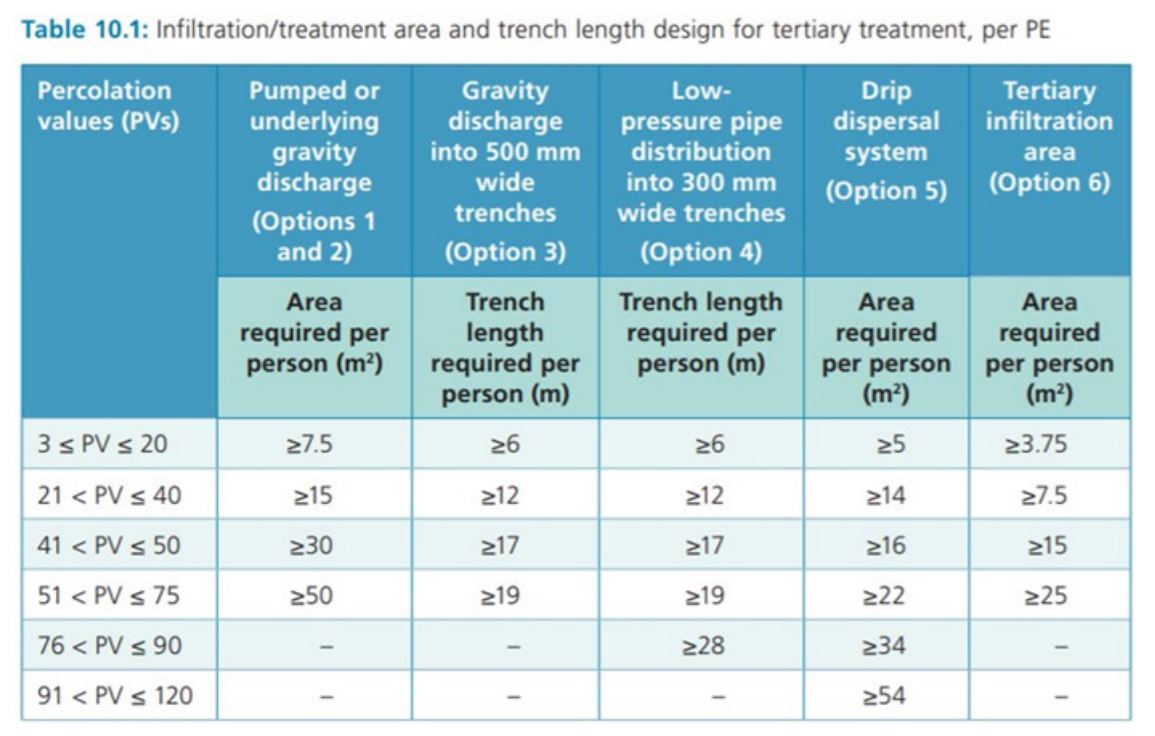 For example with a 6PE with a subsurface/surface value of 3-20
For a range of 3 < PV < 20, looking at the column "tertiary infiltration area (option 6)", select the correct area required per person based on the subsurface/surface value. In our example, the value is >3.75 m2.
Then take your PE value (6) x per the area required per person (3.75m2) = 22.50m2 total required area.
Step 2: Base gravel calculator for Sandcel sand polishing filter
Once you have calculated the area, you can apply the formula below to calculate how much gravel is needed for the area. Please note two tonnes of 10mm pea gravel is required per m3.
Formula = Area in m2 (calculated above) x 0.3 (300mm depth) x 2 (2 tonnes / m3).
Step 3: Sandcel infill gravel calculator
To fill in the inside of the GRP panels, 350mm of pea gravel sprayed over different layers (see above sketch of the Sandcel stratified layers) is required.
Formula = 350mm x area in m2 x 2 (2 tonnes / m3).
Total sand required for Sandcel installation = results step 2 + results step 3 = tonnes of 10mm pea gravel required.
Gravel requirements for standard size Sandcel sand polishing filters
See below examples of standard Sandcel dimensions and gravel quantities in tonnes.
INFILL 
NOTE: Dimensions add 150mm to the below dimensions to include the GRP panel enclosure
Dimensions of the area
Sandcel 900
Sandcel 1200
Sandcel 1500
Sandcel 1800
3850mm * 4000mm
6.08m3 or
13 tonne

5000mm * 4000mm
8m3 or
16 tonne

6350mm * 4000mm
10.4m3 or
21 tonne

7500mm * 4000mm
12m3 or
24 tonne

Who supplies the sands and gravel?
During a Tricel Sandcel installation, the builder/installer is responsible for the pea gravel, and Tricel is responsible for the sands.  The sands used throughout is provided with certification to ensure compliance with the EPA Code of Practice. This sand is washed and graded to ensure little or no binding of sands' particles during use.
During installation, Tricel is responsible for both the delivery and installation of the Sandcel sand polishing filter. All other works, excavation, concrete surround, pumping main, etc is carried out by the contractor.
Images of Sandcel sand polishing filter installation
Completed pipe network on a Sandcel before placement of final gravel layer.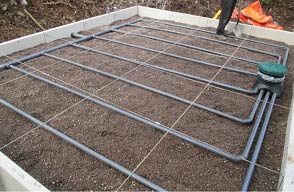 All Sandcel filters have a service pod which is designed to provide access to the complete pipe network. The laterals terminate in the pod and are capped and sealed to maintain the pressure within the network. Such an approach ensures access to the pipe system for service and rodding if required.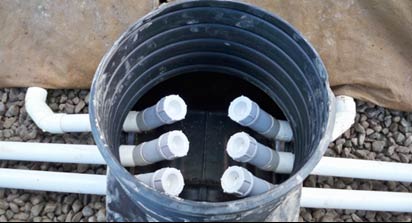 A layer of geotextile is placed on top of the final layer of gravel to protect the filter from silt being washed down. On this geotextile, a layer of topsoil can be placed to blend the entire unit in with its surroundings.
Why should you use
Tricel
?
Tricel and TricelSiteAssessor provide you with:
Design and technical advice based on site characterisation report.

Supply of external structure (GRP panels), certified sands and pipework.

Installation of all stratified layers of sand and gravel according to EPA Code of Practice for Waste Water Treatment and Disposal Systems serving single houses 2009.

Full sign off and certification by an approved engineer.

A detailed installation report including photographic evidence of work carried out is issued, kept on record and available on request.

Provide commissioning certificate to the customer for planning.

All drawings and specs available for site assessors and planning authorities.
Use Tricel Site Assessor to generate site recommendation reports including sand polishing filters, soil polishing filters, wastewater treatment plants, septic tanks and Puraflo modules.